…I MERE END 10 ÅR

BIGFestival den 28.-30 juli 2023 i Gudhjem, Rønne og Hasle.
BIGFestivalens formål er at præsentere publikum for en bred vifte af professionelt dansk og internationalt teater: Klassisk gadeteater, moderne nycirkus, dukketeater, performance og moderne dans for et internationalt publikum i alle aldre.
Festivalen blev startet i Gudhjem i 2011 af Niels Peter Kløft (th.) fra teatergruppen Dansk Rakkerpak i et nært samarbejde med Bornholms Teaterforening og den daværende formand Jette Glavind.
Med sine særprægede udendørs rum, gaderne der slynger sig ned mod havet og det summende ferieliv i byens havne, udgør Gudhjem den optimale scene for internationalt artisteri, dans og performance.
Siden 2022 står Thomas Danielsen og Undreværket i Gudhjem for at arrangere Bornholms Internationale Gadeteaterfestival. Vi samarbejder fortsat med Teaterforeningen Bornholm. Peter Krukow Pedersen, Erik Munch Hansen og Sanne Prag fra teaterforeningen er i dag nogle af festivalens bærende kræfter. Vi samarbejder også med 'Passage Festival' i Helsingør/ Helsingborg, 'Internationella Gatuteaterdagar' i Halmstad og 'Street Cut' i Næstved om at opkøbe forestillinger.
(FOTO: Thomas Danielsen og Niels Peter Kløft  på Gudhjem Havn i 2016. Fotograf Gerd Kusensberg )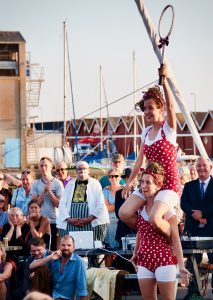 …FOR MORE THAN 10 YEARS
BIGFestival 28-30 July 2023 in Gudhjem, Rønne and Hasle.
The festival was started in Gudhjem in 2011 by Niels Peter Kløft (right) from the theatre group Dansk Rakkerpak in a close cooperation with Bornholms Teaterforening and president Jette Glavind. With its distinctive outdoor spaces, streets winding down to the sea and buzzing holiday life in the town's harbours, Gudhjem provides the ideal stage for international artistry, dance and performance.
We want to present a wide range of professional Danish and international performing arts: High quality street theatre, modern circus arts, puppet theatre, performance and modern dance for an international audience of all ages.
Since 2022, Thomas Danielsen and Undreværket in Gudhjem will be organising Bornholm's International Street Theatre Festival. We continue to cooperate with Teaterforeningen Bornholm. Peter Krukow Pedersen, Erik Munch Hansen and Sanne Prag from the theatre association are today some of the festival's main forces. We also collaborate with 'Passage Festival' in Helsingør/ Helsingborg, 'Internationella Gatuteaterdagar' in Halmstad and 'Street Cut' in Næstved to buy performances.
UNDREVÆRKET

Undreværket er en kulturforening, startet i 2016 af Helene Høm og Thomas Danielsen i et nedlagt missionhus i Gudhjem. Vi samarbejder med Bornholms Teaterforening, Passage Festivalen i Helsingør, Niels Peter Kløft og "Street Cut" festivalen i Næstved om gadeteaterfestivalen www.undrevaerket.dk
UNDREVAERKET is a former church space in pittoresque Gudhjem on the rocky east coast of Bornholm. Thomas Danielsen and Helene Høm, both professional artists, grew up on Bornholm and worked internationally for several years till they in 2016 opened Undreværket as a working space and show room for theatre and art: www.undrevaerket.dk
Festival organizer: Thomas Danielsen, +45 28 12 03 35
PR, communication and catering: Helene Høm, undrevaerket@gmail.com
TEATERFORENINGEN BORNHOLM
Teaterforeningen Bornholm arrangerer professionelle teaterforestillinger på Bornholm og er drevet af frivillige. Stort set alt det teater, som bornholmerne kan se (ud over Bornholms Teaters produktioner) er skaffet hertil af teaterforeningen. BIGFestival er især hjulpet af: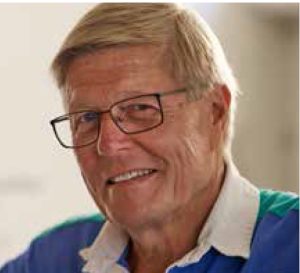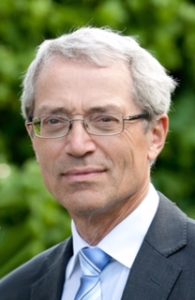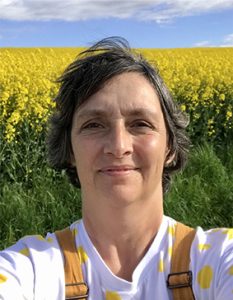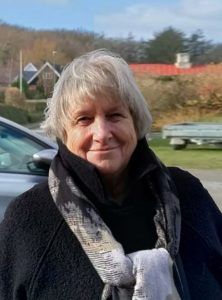 Formand Peter Kruckow, kasserer Erik Munk Hansen, bestyrelsesmedlem Sanne Prag og fhv. formand gennem 27 år Jette Glavind Pedersen
THE THEATER ASSOCIATION BORNHOLM
organize professional theater performances on Bornholm and is driven by volunteers. Almost all the theater plays that the population on Bornholm can see (in addition to Bornholms Teater's local productions) has been invited here by the theater association.
BIGFestival is organized with assistance from president Peter Kruckow, Erik Munk Hansen and Sanne Prag, as well as the associations former president through 27 years, Jette Glavind Pedersen.
.