OBS! Her ser du sidste års optrædende grupper (2022):
ATTENTION! Here you see last year's performing groups (2022):
GLIMT (DK): CAMELIORQUESTRA KVARTET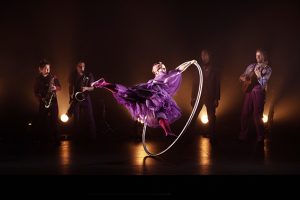 Koncert og nycirkusforestilling i et:  Her kan alt ske. Musikerne flyver bogstavelig talt rundt, mens de spiller, som frygtløse, musikalske cirkusartister. Frit fald ned ad stolper og pæle, dans på slap line, kast med hinanden gennem luften og meget mere bliver kombineret i et væld af variationer – i en topunderholdende koncert med nordisk gypsy-folk-funk-punk kærlighedssange. Et univers af skæve eksistenser, store drømme og poesi.
An insane circus concert: CameliOrquestra is a combined koncert and contemporary circus performance. A performance where everything can happen and where the musicians literally are flying around while playing. Everyone on stage are all capable musicians while incredibly gifted acrobats, and their fusion of nordic folk-punk-gypsy-funk makes your pulse race, while their acrobatixs create humoristic, endearing, impressive and nervewrecking moments. (Photo: Søren Meisner)
M.P.A.C.(SE): BREAST IN PEACE

Bryster som emne er en sand guldmine for fire klovne med punk-cirkus attitude: En forestilling om bryster, denne elskede blanding af fedt, bindevæv og kirtler! Klovnene i M.P.A.C opererer i spændingsfeltet mellem det tåkrummende og det virtuøse og udforsker herfra brysterne. Hvad siger bryster om den menneskelige tilstand? Hvem kan vise hvad, hvor, hvordan? Bryster er for store, for små, for hængende, for sexede, for tunge, for flade, for muskuløse.
Breasts are a goldmine for four clowns with a punk circus attitude: The beloved blend of fat, connective tissue and glands! As clowns, somewhere between embarrasment and virtuosity, M.P.A.C. plays with our perceptions of breasts  – to surprise, remove shame, arouse laughter and broaden the view on breasts both in the public and the personal space. Who can show the nipples on the beach? In social media? Elevated on stage in the spotlight? Breasts are too big, too small, too saggy, too sexy, too heavy, too flat, too muscular. Are you breastfeeding here?! Breasts are hidden, missing and mourned. (Photo: Alex Hinchecliffe)
HURYCAN (ES): BRUTA.L.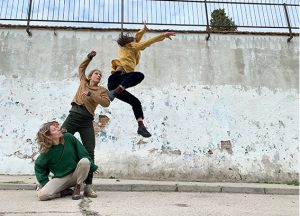 Et sted mellem dans, slagsmål, teater og musik: Fire kvinder i en konstant skiftende magtbalance, en brutalitet af kroppe, der kolliderer, falder, støtter og frastøder hinanden. Fra ekstreme tilstande og situationer til det absurde eller latterlige. Her stilles spørgsmålstegn ved tanken om tilknytning, behovet for at dominere gennem fysisk eller psykologisk manipulation. Bruta.L udforsker vores forhold til andre og afslører de modsætninger mellem begær og frygt, der presser os til at handle med rå magt.
A dialogue between dance, theatre and music: Four women live together in a constant fight for power, in the brutality of bodies that clash, fall, support and reject each other. The bodies are dragged and taken to extreme states, provoked situations, wished for or surprisingly absurd and ridiculous. This piece questions the idea of attachment, the need to dominate the other through physical or psychological manipulation.
BRUTA.L explores our relationship with others, revealing our own contradictions, mixing desire and fear, which push us to act from brutal force (photo Candelaria Antelo)
DANSK RAKKERPAK (DK/I/ES): GRÆNSEN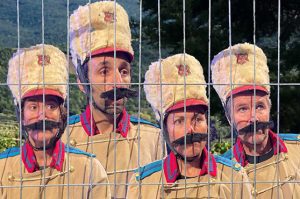 En tragikomisk og universel forestilling om flygtninge og grænsevagter, spillet i et nonverbalt, musikalsk univers af et internationalt cast bestående af to danskere, en spanier og en italiener.
Under fremmede himmelstrøg på et ikke nærmere defineret tidspunkt i historien, trænes et hold dedikerede grænsevagter i den sværekunst at holde uønsket personage ude af deres land. Den bedste grænsevagt
bliver udvalgt til at regere over en grænse på en afsidesliggende destination.
Magten stiger ham øjeblikkeligt til hovedet, og hans første handling er at udvise sine kammerater. Grænsebommen lukkes ned og hans tidligere kollegaer er nu
ubehjælpeligt "fanget" i ingenmandsland.
The Border; a tragicomic and universal performance about refugees and border guards. Played in a nonverbal, musical universe by an international cast consisting of two Danes, a Spaniard and an Italian.
Under foreign skies, at an unspecified time in history, a team of dedicated border guards are trained in the difficult art of keeping unwanted characters out of their land. The best border guard is selected to rule over a border barrier at a remote destination. Power rises immediately to his head, and his first act is to expel his comrades. The border barrier is closed down and his former colleagues are now helplessl "trapped" in no man's land! (photo:

Christian Q. Clausen

)

LES ETABLISSEMENT LAFAILLE(F): VERY LOST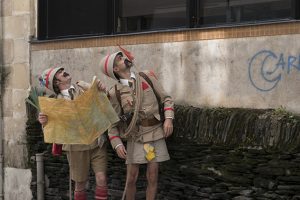 Belgiske gadeartister:  Den "meget farlige" tur for to meget, meget fortabte britiske opdagelsesrejsende. En vild færd i det offentlige rum, blandt uoverstigelige buske, busholdepladser, pæle, bænke og andre afgrunde.
Et besøg, der ændrer din ellers så velkendte by til et landskab på en usandsynlig måde og et show, du selv skal følge. Du vil se dit egen by med helt nye øjne.
Duoen er inspireret af Charlie Chaplin og  Harold Lloyd's stumfilm
The "very dangerous" trip of two very very lost British explorers. A wild saga in the heart of public space among unsurmountable bushes, bus shelters, poles, benches and other precipices. A vertical visit of the street changing it into a landscape in an improbable way.  A visit that changes your otherwise familiar city to a landscape in a very unlikely way, and a show you have to follow yourself. See your own city with brand new eyes.
The duo is influenced by Chaplin and Lloyd's silent movies (photo: Jeff Rabillon).
ADREANNE THIBOUTOT (CA): HOOPELAI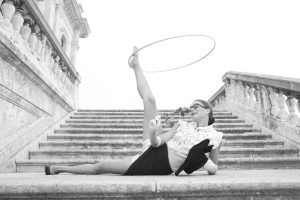 Canadisk vituositet med Hulahop-ringe: Denne Grand Lady bringer dig ind i et univers fuld af bedrifter med Hulahop-ringe, med en imponerende og rørende enkelhed. Hoopelaï  er en romantisk komedie, der varmer publikums hjerter.
Canadian virtuosity with Hoolahoop rings:

It's while making turn her hoops around her, falling in a dizzying movement that this Grand Lady brings you into a universe filled of feats with an impressive and touching simplicity. Hoopelaï, a romantic comedy that warms up the hearts of the audience (photo: Stefano Scheda)

SOFIE KROG TEATER (DK): QUACKSALVER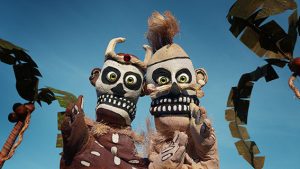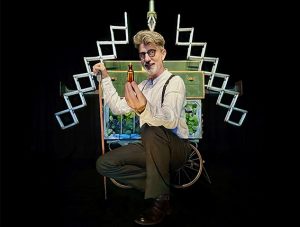 Dansk dukketeater når det er bedst: "Kom nærmere! Quacksalveren er i byen. Kom nærmere hvis du tør!"
I dette fantasy adventure skruer Mr. Q op for charmen, når han viser den nemme vej til et perfekt liv, mens han fra sin underfundig pop-up vogn sælger monster medicin til hele familien.
High quality Danish puppet theater at its best: "Come closer. The Quacksalver is in town – come closer if you dare! In this fantasy adventure, Mr. Q turns on the charm, when he – from his ingenious pop-up wagon – shows the easy  way to a perfect life by selling monster drugs to the whole family.
KATRINE KARLSEN (DK): WALK THE DOG
En tillidsfuld hundestafet og et møde mellem mennesker:  Iklædt hundedragt, halsbånd og snor opsøger performer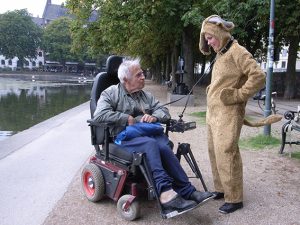 Katrine Karlsen fremmede mennesker i deres færden rundt i Gudhjem og tilbyder dem at ledsage hende som hundelufter et stykke af vejen gennem byens gader.
Stafetten er skabt udfra den overbevisning, at vi gerne vil hinanden, men kan mangle en anledning til at komme i kontakt, hvorfor alkohol, børn og hunde ofte fungerer som sikre isbrydere og legitime "kontakt-objekter".
Gåturen kan foregå i stilhed eller i samtale. Værket har desuden en række samtalekort, hvis man skulle løbe tør for samtaleemner.
A trustfull performance about human contact.Dressed in a dog suit, collar and leash, the performer Katrine Karlsen seeks out strangers on their way through Gudhjem and offers them to accompany her as a dog walker some of the way.
The performance is created with the belief that we want to reach out to each other, but may lack the opportunity to get in touch. This is where alcohol, children and dogs often help. The walk can take place in silence or in conversation. The "dog" has a number of conversation cards in case you run out of topics.
Duration: As long (or short) as you like           @katzekarlsen
JENS KLØFT (DK): BIRDY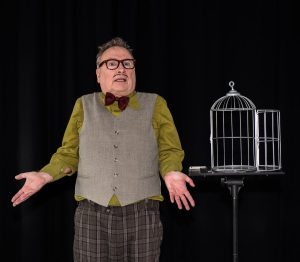 Melodrama, klovneri og visuel historiefortælling på gadeplan: Impresario og operaelsker Sibelius Vogelfreud gør sig klar til at præsentere sin verdensstjerne sangfuglen MISS BIRDY. Publikum er på plads. Sibelius ordner de sidste detaljer. Så er vi klar. Men nej! – buret er tomt, fuglen er væk, hvad gør han nu?
Birdy er en nonverbal forestilling for hele familien. En komisk og poetisk fabel om at miste og give slip.
Melodrama, clown and visual storytelling at street level: Impresario and opera lover Sibelius Vogelfreud is getting ready to present his world star songbird MISS BIRDY. The audience is in place. Sibelius arranges the final details. Then we're ready. But no! – the cage is empty, the bird is gone, what does he do now?
Birdy is a comic, poetic and nonverbal performance for the whole family about losing and letting go.
For første gang nogensinde stod Undreværket for at arrangere Bornholms Internationale Gadeteaterfestival, der løb af stablen den 22. – 24.juli 2022. Vi var godt hjulpet af festivalens 11 år gamle samarbejdspartner: Teaterforeningen Bornholm.
Årets festival var på alle måder vellykket. Fra publikum lød ros for kvaliteten af årets program, der bød på alt fra klassisk gadeteater til feministisk klovneperformance og nycirkuskoncert. Fra de optrædende kunstnere ros for en topprofessionel og hjertevarm festival.
Ikke en forestilling måtte aflyses på grund af vejret, selvom lørdagen bød på både regn og blæst. Til gengæld bød søndagen på perfekt festivalvejr. En enkelt aflysning blev det desværre til, da en forestillingscomputer blev ødelagt af vand under åbningskabareten på Gudhjem Havn fredag aften. Her var et sted mellem 400 – 450 publikummer mødt op.
Ni grupper fra ind- og udland var på øen i tre dage. Der blev vist i alt 26 forestillinger i tre byer, set af omkring 4600 publikummer. Lørdagen var kold for både publikum og optrædende, hvilket har gjort dette års publikumstal en del lavere end tidligere år.De enkelte forestillinger havde mellem 90 – 450 tilskuere hver.
En stor tak til de mange lokale sponsorer og til de nationale og lokale fonde, samt alle festivalens frivillige. Uden jer, var alt dette ikke muligt!
For the first time ever, Undreværket was in charge of organising Bornholm's International Street Theatre Festival, which took place on 22 – 24 July 2022.
This year's festival was successful in every way. Audiences praised the quality of this year's programme, which offered everything from classic street theatre to feminist clown performances and a new circus concert. The performers praised us a top professional and heart-warming festival.
Not one performance had to be cancelled due to the weather, even though Saturday brought both rain and wind. Sunday, on the other hand, offered perfect festival weather. Unfortunately, one cancellation occurred when a performance computer was destroyed by water during the opening cabaret at Gudhjem Harbour Friday evening. The number of audience at the caberet were between 400 and 450 people.
Nine national and international groups visited the island for three days. A total of 26 performances were presented in 3 cities, seen by around 4600 spectators. Saturday was cold for both audience and performers, which made this year's audience numbers a bit lower than previous years.The individual performances had between 90 – 450 spectators each.
A big thanks to the many local sponsors and to the national and local foundations, all our collaborators and all the festival volunteers. Without you, none of this would be possible!