GRUPPER 2023
PERE HOSTA (ES): DIS-ORDER

Visuel humor for store og små: Hver dag laver vi papirarbejde, skaber dokumenter og leder efter certifikater! I DIS_ORDER tager kontoret ud på gaden for at skabe system i det offentlige rum. Det velkendte skal certificeres, og der skal udstedes attester om alle de farer, som fodgængere f.eks. er udsat for. En poesi af uorden… og vent lige til det bliver din tur!
Visual humor for young and old: Every day we do paperwork, create documents and look for certificates! In DIS_ORDER, the office takes to the streets to create order in the public space. Certifying the familiar and producing certificates about all the dangers to which pedestrians are exposed. A poetry of disorder… But wait for your turn! (Photo: Aida Moscoso )
Varighed/Duration:  35 min.              Website & trailer:

www.perehosta.com
Lørdag/Saturday:  Rønne, Start ved Laksetorvet kl. 11.30 +  Gudhjem Havn kl. 14.05
Søndag/Sunday:   Gudhjem Havn kl. 13.15
PAOLO NANI (DK/I): MAGISKE JEKYLL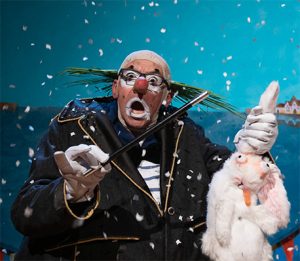 Historien om, hvorfor den elskede klovn Jekyll blev is-sælger og ikke tryllekunstner ligesom sin far! En historie om at trodse sine egne begrænsninger og omverdens forventninger. Om at bruge sin passion og  finde sin egen vej i tilværelsen. Forestillingen handler om Jekylls mere eller mindre heldige forsøg i magiens verden, og Paolo Nani benytter klovne-figurens sjove, underfundige, troskyldige univers, til at skabe et fælles, festligt og interagerende møde med sit publikum, store som små.
The story of why the beloved clown Jekyll became an ice cream salesman and not a magician like his father! A story about defying your own limitations and the expectations of others. About using your passion and finding your own path in life. The show is about Jekyll's more or less successful attempts in the world of magic, and Paolo Nani uses the clown character's funny, subtle, trustworthy universe to create a shared, festive and interactive encounter with his audience, young and old. (Photo: Søren Meisner )
Varighed/Duration:  60 min.            Website:

www.paolonani.com
Fredag/Friday:       Rønne, Rønne Bibliotek kl. 11.00
Lørdag/Saturday:  Hasle, Grønbechs Gård kl. 11.00  ( OBS! Gudhjem Havn v. Provianten kl.15.45 er AFLYST)
Søndag/Sunday:    Gudhjem Havn, Provianten kl.10.15
ARCTIC ENSEMBLE (FIN): KICKSTART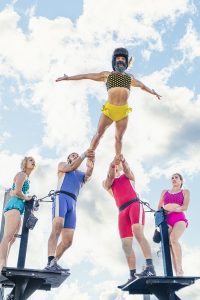 Nycirkus til lands til vands… og i luften! En længe ventet biltur stopper brat, og seks venner strander midt i den brutale nordiske sommer med al dens uforudsigelighed. Kickstart er et sjovt og højenergisk akrobatisk cirkusshow baseret på finsk kultur, natur og absurd humor. Showet bliver ved med at overraske publikum med forskellige cirkusdiscipliner som f.eks. Washington-trapez, hånd til stang, stram line, par-akrobatik og meget mere.
A long-awaited road trip comes to an abrupt halt and six friends find themselves stranded in the middle of the brutal Nordic summer with all its unpredictability. Kickstart is a fun and high-energy acrobatic circus show based on Finnish culture, nature and absurd humour. The show continues to surprise the audience with various circus disciplines such as Washington trapeze, hand to pole, tightrope, Cy partner acrobatics and much more. (Photo: Mikko Pirinen)
Varighed/Duration: 70 min.        Website & trailer: www.arcticensemble.com
Lørdag/Saturday:  AFLYST PGA. REGN Gudhjem, Holkadalen kl. 17.00
Søndag/Sunday:    Gudhjem, Holkadalen kl. 11.30
LES GÜMS (FR): KÄLK
Fysisk humor: Efter 250 forestillinger i 12 lande, med 184568 tilbagelagte kilometer og 2.420.641 minutter tilbragt sammen, har kompagniet Les GüMs skabt en forestilling om at tilbringe meget tid sammen. KäLK er inspireret af fænomenet med turtelduer, der lever som et livslangt par, hvor den ene partner lader sig dø, hvis den anden går bort. En fysisk og morsom duet om kærlighed, sammensmeltning, afhængighed, magtkampe og intimitet.Les Güms bruger moderne dans, underfundig humor, nycirkus og musik.
Physical humour: After 250 performances in 12 countries, with 184568 kilometres travelled and 2,420,641 minutes spent together, the company Les GüMs has created a performance about spending much time together. KäLK is inspired by the lovebird, that live as a lifelong couple, and one lets itself die, if the other passes away. A physical and hilarious duet about love, fusion, addiction, power struggles and intimacy. Les Güms are using modern dance, subtle humour, contemporary circus and music. (Photo: Atelier du rush – Florian Delafournière )
Varighed/Duration: 50 min.         Website & Trailer:

www.lesgums.com
Lørdag/Saturday: Gudhjem, Nørresân kl.12.00
Søndag/Sunday:    Gudhjem, Nørresân kl 14.00
HELSINGØR TEATER (DK): BLITZ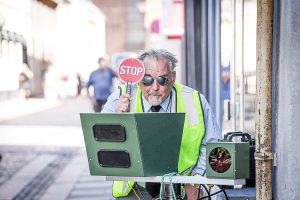 Improvisation med publikum og byen: Under BIGFestivalen har vi set os nødsaget til at indføre trafikkontrol i Gudhjems gader. Sommertrafikken er ofte årsag til frustration, fordi både fodgængere og bilister laver uventede opbremsninger ved menu-skilte og butiksvinduer. De tager ulovligt ophold både her og der, og danner køer, når de indtager alkohol eller soft Ice. Kontrollørerne Ib og Brit er udstyret med citronmåne, sang og et helt særligt måleudstyr for at opretholde god ro og orden på gaderne. Gå forsigtigt og pas på derude!
Improvisation with the audience and the city: During BIGFestivalen, we have decided to introduce traffic control in the streets of Gudhjem. The summer traffic is often a source of frustration as both pedestrians and drivers make unexpected stops at menu signs and shop windows. They stop illegally here and there, and they form queues when consuming alcohol or soft ice cream. Enforcement officers Ib and Brit are equipped with lemon cake, singing and a very special measuring device to maintain order on the streets. Walk properly and be careful out there! (Photo: Carsten Riber)
Varighed/Duration:  Ca. 45-60 min.                No website
Lørdag/Saturday: Gudhjem around 13.00 (BLITZ find you, before you find them)
Søndag/Sunday:  Gudhjem around 11.00 (BLITZ find you, before  you find them)
MARTA & KIM (NL/N/PT): ENGEL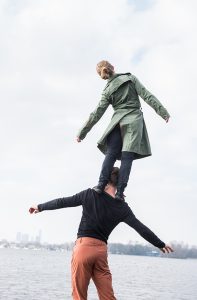 Moderne dans og nycirkus i et stringent og smukt parløb: Hvad er bevidsthed? Når en tanke dukker op, hvor kommer den så fra? Vi har mange måder at sanse verden på, og alligevel har vi svært ved at håndtere ting, vi ikke kan indfange med ord. Cirkussartist Marta Alstadsæter (N)/Ana Jordao (PT) og danser Kim-Jomi Fischer (NL) mødes på tværs af deres genrer i en fysisk duet, der inviterer til at slutte fred med de mange uforklarlige sider af at være menneske.
Modern dance and contemporary circus in a stringent and beautiful pairing: What is consciousness? When a thought comes to mind, where does it come from? We have many ways of sensing the world around us. Still we find it hard to deal with the things we cannot capture in words. Perhaps fearing the chaos of the incomprehensible.
Circus artist Marta Alstadsæter(N)/ Ana Jordao (PT))  and dancer Kim-Jomi Fischer (NL) meet between their genres in a physical duet, that invites you to embrace the many explicable aspects of being human. (Photo: Anna van Kooij )
Varighed/Duration: 20 min. (out door version of 50 min dance/cirkus performance)
Lørdag/Saturday:   Gudhjem, Nørresân kl. 10.30  +  Gudhjem Nørresân kl.15.00
Søndag/Sunday:    Gudhjem, Nørresân kl. 12.50 + Gudhjem Nørresân kl.15.30
STREETFOOLS (I/ES): THE RESCUE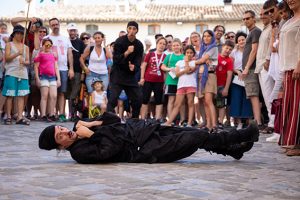 Den sjoveste Ninja-mission nogensinde: To ninjaer ankommer til byen i bil, klar til at tilbagekræve "Maki", en hellig fisk, som nogen har stjålet fra deres kloster. Når det første besvær ved at komme ud af en camoufleret bil er overstået, vil vores Ninja-helte begynde en rundvisning i byen, der demonstrerer deres ejendommelige evner. Til sidst lykkes det dem med publikums hjælp at besejre det onde og få "Maki" tilbage. The Rescue er baseret på improvisation, humor og byrummet.
The funniest Ninja mission ever seen:

Two Ninjas arrive in Gudhjem to reclaim "Maki", a sacred fish that someone has stolen from their monastery. Once the initial hassle of getting out of a camouflaged car is over, our Ninja heroes will begin a tour of the city demonstrating their peculiar abilities. With the help of the audience they manage to get "Maki" back.

The Rescue is based on  improvisation, humor and the city space. (

Photo: Stefano Scheda)
Varighed/Duration: Ca. 45 min.             Trailer: Video                Website www.streetfools.com
Fredag/Friday:        Rønne, Start ved Laksetorvet kl 12.30
Lørdag/Saturday:   Gudhjem, start ved Gudhjem Kirke kl.11.00
Søndag/Sunday:     Gudhjem, start ved Gudhjem Kirke Kl. 15.50
DANSK RAKKERPAK (DK): JANE BLOND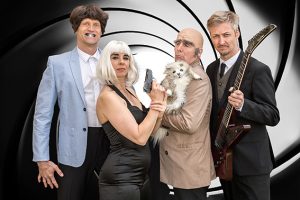 "My name is Blond, Jane Blond!" Dansk Rakkerpak har kastet sig over James Bond universet, men med det tvist, at superagenten nu er en kvinde. Jane Blond har også "License to kill", og hun vil kæmpe og slås mod et galleri af bestialske forbrydere og til sidst redde verden fra undergang.
Toptunet udendørs teater i et universelt teatersprog med præcis timing, stor musikalitet, komik på højt plan og selvfølgeligt uovertrufne sekvenser i slow-motion.
Danish Rakkerpak has taken on the James Bond universe, but with the twist that the super agent is now a woman: "My name is Blond, Jane Blond!". Jane Blond has a "Licence to kill" too, and she will fight and battle a gallery of bestial criminals and ultimately save the world from destruction.
Top-notch outdoor theatre in a universal theatre language with precise timing, great musicality, high-level comedy and, of course, brilliant slow-motion sequences. (Photo: Søren K. Kløft)
Varighed/Duration: Ca. 50 min.               Website & trailer :

www.danskrakkerpak.dk
Fredag/Friday:       Rønne, Rønne Bibliotek kl.14.00
Lørdag/Saturday:  Hasle, Grønbechs Gård kl.15.00
Søndag/Sunday:   Gudhjem, Holkadalen kl.17.00
******************
Åbningscabaret på Gudhjem Havn fredag 28. juli kl. 20.00! Mere end 20 optrædende fra alle festivalens grupper. Kom og se uddrag af alle festivalens forestillinger – helt gratis!
Opening cabaret at Gudhjem Harbour on Friday 28 July at 20.00! More than 20 performers from all the festival groups. Come and see excerpts from all the festival performances – for free!