PRACTICAL INFO
Velkommen til alle performere ved årets festival. Her finder du relevante informationer om festivalen.
Welcome to all performers at this year's festival. Here you will find practical information about the festival.
(Please scroll down)
A LITTLE BIT ABOUT GUDHJEM AND US

UNDREVÆRKET is a former mission house, that the artists Thomas Danielsen and Helene Høm took over in 2016. We created a unique small cultural center in the original setting, and we have our artistic studioes and workplace here in the winter time. We organize BIGFestival non profit, and all our helpers are also volunteers.

IMPORTANT CONTACTS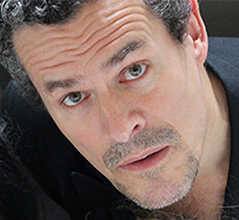 Festival organizer: Thomas Danielsen + 45 28 12 03 35
OUR ADDRESS
Undreværket
Kirkevej 2
3760 Gudhjem
Find us in the street between the cinema Scala Gudhjem and the church. When you stand in front of the cinema loooking down over Gudhjem, you se 3 different roads, take the middle road.
WHEN AND WHERE DO I PERFORM?
Under "Groups 2023"  you can find your timetable and scene/place.
SCENES/ PLACES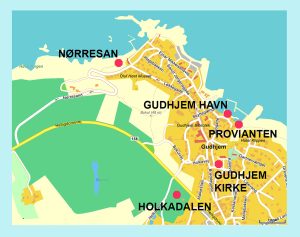 Festival scenes, Gudhjem:
Gudhjem Habour, Provianten: Einar Mikkelsensvej, 3760 Gudhjem
Holkadalen: From Holkavej (turn to Holkavej from "Restaurant Brøddan"on the main street "Brøddegade". Go under the bridge)
Nørresan Havn: The old harbour i Gudhjem. If you follow Einar Mikkelsensvej in the driving direction from Gudhjem Harbour you´ll reach Nørresan Harbour  5 min. walk)
Gudhjem Church, turn upwards to the church from "Restaurant Brøddan" on main street "Brøddegade"
1-2 volunteer helpers will be present at all scenes.
Festival contact Gudhjem : Thomas + 45/ 28 12 03 35
Festival scene Hasle:
Grønbechs Gaard (Bornholm Center for Arts and Crafts)
Grønbechs Gård 4
3790 Hasle
Festival contact Hasle: Lene Havtorn + 45/ 30 12 99 95
Festival scene Rønne, The Library: 
Bornholms Folkebiblioteker ( Bornholm Public Library)
Pingels Allé 1
3700 Rønne
Festival contact Rønne Library: Lea Wolfbrandt + 45/ 30 38 83 28
(on holiday til July 21.st) Lea will be at the library on July 28.th
Festival scene Rønne:

Between Laksetorvet and Store Torv.
Laksetorvet is the shopping street/pedestrian zone. Look for the wine bar Râzapâz…
Store Torv is the main square in Rønne.
Festival contact Rønne: Erik Munch Hansen   +45/20 41 22 66
OPENING CABARET
Gudhjem Harbour  friday July 28.th 20.00 – 21.00
CABARET MEETING
Gudhjem Harbour Friday July 28.th  17.00 – 18.00
After the meeting there is food sponsored by Cafe Klint.
FOOD AT THE FESTIVAL
Breakfast
Saturday and sunday: 8.00 – 10.00
Undreværket, Kirkvej  2, 3760 Gudhjem
Bread, muesli, fruits, tee, juice, coffee, eggs, confiture, marmelade, cheese + vegetarian/vegan/glutenfree foods  (80-90% bio).
Lunch
Unless other arrangements have been made, you will be paid per diems to buy your own lunch.
Dinner Party, Saturday
We arrange a festive dinner party saturday evening to celebrate the performing artists and the festival´s volunteers (80% bio).
Saturday July 29. th 19.00
Undreværket, Kirkevej 2, 3870 Gudhjem
Wine/beer during dinner is free.
Food Sunday evening
OBS! This have been changed:  We will inform you sunday morning at breakfast on where and how you will have dinner.
FOOD & BEVERAGES IN GUDHJEM
Gudhjem have several cafees, bars and restaurants as well as a local smokery. We recommend tasting the local dish "Sol over Gudhjem" (Smoked herring with a raw egg yolk). A special danish dish for lunch is the traditional "Smørrebrød", dark rye bread with various toppings. This you find several places – and right now also at Jantzens Hotel.
Vegetarian food is available at the wine bar Provianten (bio), Bechs Chokolade/Cafe Klint and Cafe Norresan. Pizzaria Venezia also have a vegetarian pizza.
SUPERMARKETS
Dagli´Brugsen Gudhjem
Jernkaasvej 1
3760 Gudhjem
Spar Gudhjem
Brøddegade 14
3760 Gudhjem
OBS. There is no farmacy in Gudhjem. Nearest farmacy is Allinge (16 km). But you can order medicine in  both the local supermarkets. If you order in the morning, the medicine will be delivered the same day – otherwise the following day.
ATM/ CASH
You find an ATM at the supermarket Dagli Brugsen on (Jenkaasvej 1, on top of the city close to Gudhjem Museum)
There is also an ATM at the corner next to the cinema Scala Gudhjem in Brøddegade.
OBS: Denmark is not part of the EU's monetary union. The currency is the Danish krone (dkk /kr.)
ACCOMMODATION
Here you can find the accommodation reserved for you:
Niels Grønne & Co: Malkestien 3, 3760 Gudhjem (Contact Thomas Danielsen + 45 28 12 03 35)
Susanne Bonde & Bastian Pop: Malkestien 3, 3760 Gudhjem (Thomas Danielsen + 45 28 12 03 35)
Dansk Rakkerpak & Co:  Various places in Gudhjem: Gudhjem Vandrerhjem,
Ejnar Mikkenselsvej 14, 3760 Gudhjem tel. +45 2181 8173 / Gudhjem Camping, Melsted Langgade 45, tel.+45 42 415 815/ Gudhjem Brandstation, private arrangement.
Blitz/Maja Rehøj: Sannes Camping,  Melstedvej 39, 3760 Gudhjem,  tlf +45 56 48 52 11
Blitz/ Søren Møller Pedersen & co: Ruske Living "Perlen". Brøddegade 4, 3760 Gudhjem. Tlf: +45 25 34 42 65
Pere Hosta: Ruske Living "Møllen". Brøddegade 4, 3760 Gudhjem. Tlf: +45 25 34 42 65
Carla Kiefer/ Studio Kiba: Ruske Living "Gildesalen". Brøddegade 4, 3760 Gudhjem. Tlf: +45 25 34 42 65
Streetfools: Gudhjem Camping, Melsted Langgade 45, 3760 Gudhjem. Contact: +45 42 415 815
Arctic Ensemble: Gudhjem Feriepark, Lille Jernkaasvej 1, 3760 Gudhjem  (ca 200 meters from Dagli´Brugsen) + 56 56 95 85 66
Les Güms: Gudhjem Feriepark, Lille Jernkaasvej 1, 3760 Gudhjem  (ca 200 meters from Dagli´Brugsen) + 56 56 95 85 66
Marta & Kim: Tanketeket by Baukje Avaund Erthmann, Gudhjemvej 71, Gudhjem. Bornholm. tel. + 45 22 13 76 20

Ana Jordao (from "Marta& Kim): Pension Koch, Melstedvej 15, 3760 Gudhjem (100 meters from Dagli´Brugsen and Gudhjem Museum) tel +45 56 95 85 66

Paolo Nani + Tecnician:
Pension Koch, Melstedvej 15, 3760 Gudhjem (100 meters from Dagli´Brugsen and Gudhjem Museum) tel +45 56 95 85 66
TRAVELLING HERE
Flights: www.dat.dk
Ferry: www.bornholmslinjen.dk
Bus Copenhagen-Bornholm: www.kombardoexpressen.dk  (..for some reason this site is not in english (!?)
Busses on Bornholm (BAT): www.bat.dk